There are many different software solutions to help small businesses manage their accounting and finances. However, not all of these products are created equal. So, if you're looking for a new way to help you understand your business's financial health, you should read this Buktec Pre-accounting Software Review from our team of professionals.
What is Buktec software?
Buktec is an pre-accounting software that helps businesses streamline their financial operations. It provides users with a comprehensive set of tools to manage invoicing, expenses, and other financial tasks. Buktec also offers a mobile app for iOS and Android devices, making it easy to access your data on the go.
Buktec is a cloud-based solution, so it's easy to get started and doesn't require any installation or setup. Simply create an account and start adding your data. The software is designed to be user-friendly, so you'll be able to get up and running quickly. And if you need any help, the Buktec team offers excellent customer support.
Overall, Buktec is a great option for businesses looking for an pre-accounting solution that is easy to use and provides all the features you need to manage your finances effectively.
Features of Buktec Pre-Accounting Software
There are many features of Buktec Pre-accounting Software. Here are five of the most notable ones:
1.Ease of use: The software is designed to be user-friendly and easy to navigate. Even those with no accounting experience can easily create and manage their accounts with it.
2.Flexibility: The software is highly flexible and can be customized to suit the specific needs of your business. You can add or remove modules as needed, and change the settings to match your preferences.
3.Generates Reports: It can generate a variety of reports, including balance sheets, income statements, cash flow statements, and more. This makes it easy to track your progress and spot any potential problems early on.
4.Security: Buktec Pre-accounting Software uses the latest security technologies to protect your data. All information is stored securely in the cloud, and you can control who has access to it with granular permissions.
5.Affordable: Buktec Pre-accounting Software is very affordable compared to other accounting software solutions on the market. You can get started with a free trial, and then upgrade to a paid plan if you find that it meets your needs.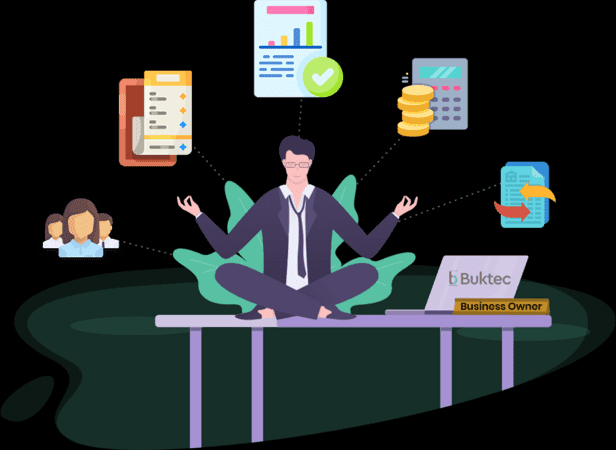 How Does Buktec Work?
Buktec is a pre-accounting software that helps businesses with their accounting and bookkeeping needs. The software is designed to be user-friendly and efficient, and it can be used by businesses of all sizes. Buktec offers a free trial so that potential customers can try out the software and review Buktec before they make a purchase.
1. Pre-accounting data entry: This is the stage where Buktec users input their financial data into the software. This can be done manually or via an automated import from another accounting system.
2. Data validation: Once the data has been entered, Buktec runs a series of checks to make sure that it is accurate and complete. This includes checking for duplicate entries, missing information, and incorrect formatting.
3. Financial analysis: In this stage, Buktec users can run various reports and analyses on their financial data. This can help them identify trends, spot potential problems, and make better decisions about their business finances.
4. Budgeting and forecasting: Buktec's budgeting and forecasting tools allow users to plan for future expenses and income. This can help them stay on track with their financial goals and avoid surprises down the road.
5. Financial reporting: Buktec's financial reporting features give users the ability to create custom reports on their financial data. These reports can be used for internal decision-making or external communications with investors, lenders, etc.
6. Customer support: Buktec offers customer support via phone, email, and live chat. This can help users with any questions or problems they have with the software.
How Does Buktec Helps Accounting Firms?
Accounting firms have a lot of clients and a lot of data to keep track of. This can be overwhelming, especially when tax season comes around. Buktec is a Accounting Process Automation software which can help you to take care of all of the data entry. All you have to do is take care of your clients and we'll take care of the rest.
Buktec is an accounting software that helps firms by doing all the data entry for them. This includes client information, invoices, payments, etc. This way, all the firm has to do is focus on their clients and not worry about the paperwork.
Buktec is a great solution for firms who want to save time and money. We know that your time is valuable, so we make sure that our software is easy to use and efficient. We also offer affordable pricing plans so that you can get the most out of our service without breaking the bank.
If you're looking for an accounting software that can take care of all your data entry needs, then look no further than Buktec. Contact us today to learn more about our services or sign up for a free trial.
How Does Buktec Help Businesses?
Buktec is an online pre-accounting software that helps businesses streamline their accounting processes. Buktec offers a wide range of features that help businesses manage their finances more efficiently, including invoicing, expense tracking, and financial reporting.
Buktec's invoicing system lets businesses create and send invoices quickly and easily. The system automatically tracks payments and overdue invoices, so businesses can stay on top of their finances. Buktec's expense tracking feature helps businesses keep track of their spending so they can see where their money is going. The financial reporting feature gives businesses a clear picture of their financial health, so they can make informed decisions about their business.
Buktec's features help businesses save time and money by streamlining their accounting processes. Buktec is an affordable and easy-to-use solution for small businesses.
Buktec Pre-Accounting Software Review
If you're in the market for pre-accounting software, Buktec may be worth considering. This cloud-based program offers a variety of features to help streamline your accounting process, including invoicing, tracking expenses, and managing inventory.
Buktec is easy to use and has a clean interface. The software is well organized and offers a step-by-step guide to setting up your account. Once you've entered your information, Buktec automatically generates reports and charts to help you track your progress.
The software offers a free trial so you can try before you buy. And if you decide to purchase the program, Buktec offers a money-back guarantee.
Overall, we were impressed with Buktec's pre-accounting software. If you're looking for a way to simplify your accounting process, this is a great option to consider.