Welcome to our blog where we embark on a virtual journey to a hidden gem nestled in a tropical paradise. Today, we invite you to discover Parque Garrafon - a destination that promises endless fun, relaxation, and adventure. Located in a breathtaking location, this enchanting park offers a multitude of unique features and attractions that will leave you in awe. So, get ready to immerse yourself in the beauty of Parque Garrafon as we unveil its wonders and invite you to experience a slice of paradise like no other.
II. Overview of Parque Garrafon
Located on the stunning Isla Mujeres in Mexico, Parque Garrafon is a must-visit destination for nature lovers and adventure enthusiasts. This idyllic park offers a range of activities and facilities that cater to all age groups and interests.
A. Layout and Facilities
Parque Garrafon boasts a well-planned layout that seamlessly blends with the natural beauty of the island. The park is surrounded by crystal-clear turquoise waters, lush greenery, and pristine white sandy beaches. The facilities at Parque Garrafon are designed to enhance your visit and provide a comfortable experience.
From the moment you step into the park, you'll be greeted by friendly staff who are committed to ensuring your visit is enjoyable and memorable. The park offers convenient amenities such as clean restrooms, showers, and changing rooms. Additionally, there are lockers available for you to store your belongings securely.
B. Areas and Offerings
Parque Garrafon is divided into different areas, each offering a unique experience and a variety of activities.
1. Beach Area: The beach area is perfect for those seeking relaxation and tranquility. Lounge on the soft sand, soak up the sun, and take a refreshing dip in the warm Caribbean waters. Beach chairs and umbrellas are provided for your comfort.
2. Infinity Pool: Enjoy breathtaking views of the ocean while floating in the infinity pool. This infinity-edge pool seems to merge seamlessly with the horizon, creating a mesmerizing experience.
3. Zip Line Adventure: Thrill-seekers will be delighted by the zip line adventure offered at Parque Garrafon. Soar through the air and witness the stunning aerial views of Isla Mujeres.
4. Snorkeling: Dive into the vibrant underwater world of the Caribbean Sea with Parque Garrafon's snorkeling experience. Explore the coral reefs teeming with colorful marine life, including tropical fish, sea turtles, and rays.
5. Kayaking and Paddleboarding: Hop on a kayak or paddleboard and explore the calm waters surrounding the park. Glide across the surface, enjoy the gentle breeze, and soak in the beauty of your surroundings.
6. Hammock Garden: Unwind and relax in the serene Hammock Garden. Swing gently in a hammock while listening to the sound of the waves and feeling the cool ocean breeze.
III. Getting to Parque Garrafon
A. Transportation Options
Getting to Parque Garrafon is convenient, with multiple transportation options available. If you're staying on Isla Mujeres, you can easily reach the park by taking a short taxi ride or renting a golf cart, a popular mode of transportation on the island.
If you're coming from Cancun, you can take a ferry from Puerto Juarez or Gran Puerto Cancun to Isla Mujeres. The ferry ride takes approximately 20 minutes, and once you arrive on the island, Parque Garrafon is just a short distance away.
B. Parking Facilities
For those who prefer to drive, Parque Garrafon provides ample parking facilities. You can park your vehicle securely and conveniently near the park entrance, ensuring a hassle-free visit.
IV. Things to Do at Parque Garrafon
A. Activities at Parque Garrafon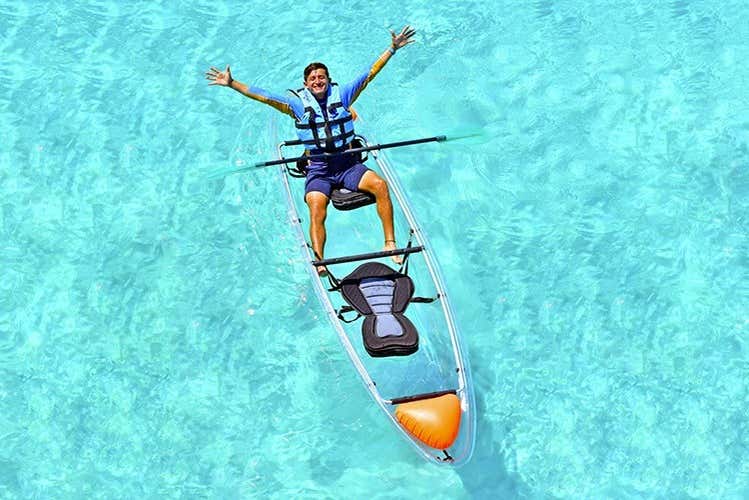 Parque Garrafon offers a wide range of activities to cater to every visitor's interests and preferences. Some of the Isla Mujeres Activities available include snorkeling, kayaking, paddleboarding, zip-lining, and relaxing in the infinity pool or hammock garden.
B. Activity Descriptions and Highlights
1. Snorkeling: Explore the vibrant coral reefs and encounter a variety of marine life, including tropical fish, sea turtles, and rays. Snorkeling equipment is provided, making it easy for everyone to enjoy this underwater adventure.
2. Kayaking and Paddleboarding: Glide across the calm waters surrounding the park on a kayak or paddleboard. Enjoy the tranquility while soaking in the natural beauty of Isla Mujeres.
3. Zip Line Adventure: Soar above the treetops and experience an adrenaline rush with the zip line adventure. Feel the wind in your hair as you enjoy breathtaking views of the island and the Caribbean Sea.
4. Infinity Pool: Take a refreshing dip in the infinity pool while marveling at the stunning ocean views. The infinity pool offers a unique experience, creating an illusion of merging with the horizon.
5. Hammock Garden: Find your peaceful sanctuary in the tranquil Hammock Garden. Relax in a hammock while listening to the soothing sound of the waves and feeling the gentle ocean breeze.
V. Dining and Refreshments
When visiting Parque Garrafon, you won't have to worry about going hungry or thirsty. The park offers a variety of dining options to satisfy your cravings. From casual snacks to full meals, there is something for everyone.
Bite into delicious Mexican cuisine at one of the park's many restaurants. Whether you're in the mood for tacos, enchiladas, or fresh seafood, you'll find it all here. Don't miss the opportunity to try local specialties like ceviche or cochinita pibil, a slow-roasted pork dish that is sure to tantalize your taste buds.
VI. Facilities and Amenities
Parque Garrafon ensures that visitors have a comfortable and convenient experience. Restrooms, showers, and changing facilities are available throughout the park, making it easy to freshen up after a day of adventure.
In addition to the essential facilities, Garrafon Park also offers a range of amenities to enhance your visit. Relax and soak up the sun on the beach or take a dip in the crystal-clear waters. For those seeking a bit more excitement, water sports equipment rentals are available, allowing you to explore the surrounding area at your own pace.
VII. Tips for Visiting Parque Garrafon
To make the most of your visit to Parque Garrafon, consider Tour packages to Isla Mujeres Firstly, it is recommended to visit during the morning hours when the park is less crowded, allowing you to fully enjoy the attractions without long queues.
Secondly, don't forget to pack sunscreen, a hat, and sunglasses to protect yourself from the sun's rays. The Mexican sun can be intense, and it's important to stay hydrated, so be sure to bring a refillable water bottle with you.
Lastly, take advantage of the various activities and experiences offered at the park. Whether it's snorkeling, kayaking, or simply lounging on the beach, there is something for everyone to enjoy at Parque Garrafon.
VIII. Nearby Attractions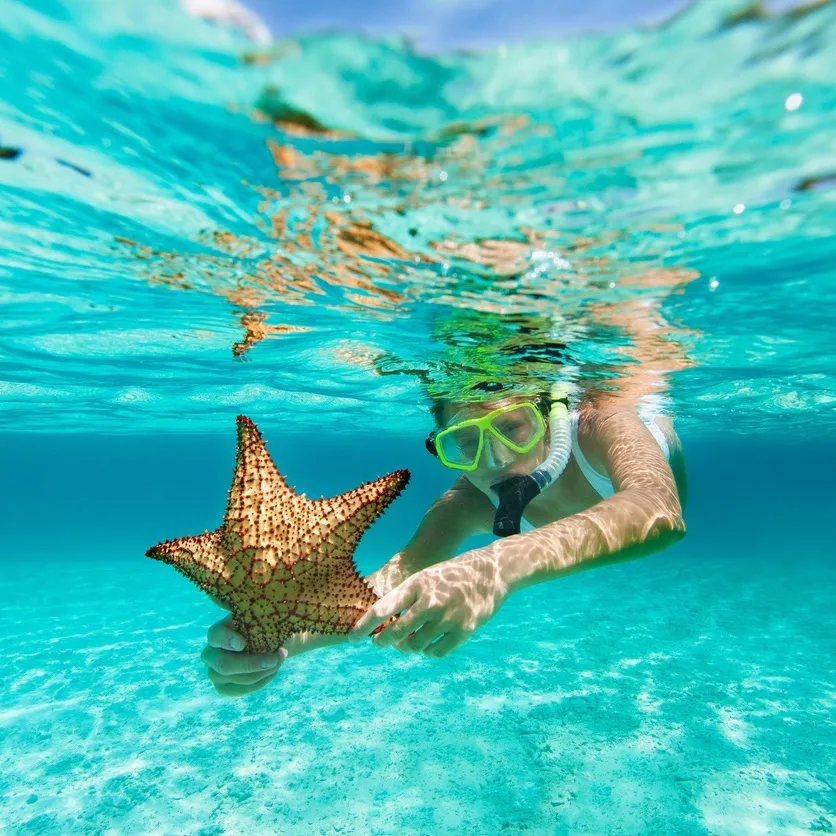 If you're looking to explore beyond Parque Garrafon, there are several nearby attractions worth checking out. One such attraction is Punta Sur, located on the southern tip of Isla Mujeres. Here, you can marvel at breathtaking views of the Caribbean Sea and visit the historic Mayan temple dedicated to the goddess Ixchel.
Another must-visit destination is the vibrant town of Isla Mujeres itself. Take a stroll through the colorful streets, browse local shops, and indulge in fresh seafood at one of the many restaurants. Don't forget to visit the famous North Beach, known for its calm turquoise waters and powdery white sand.
To reach these attractions from Parque Garrafon, you can easily arrange transportation either through the park or by hiring a local taxi. Exploring the surrounding area will add another layer of excitement to your visit to Garrafon Park.
Conclusion
In conclusion, visiting Parque Garrafon offers a delightful combination of adventure, relaxation, and culinary experiences. With a range of dining options, excellent facilities, and nearby attractions to explore, this park is a must-visit destination for anyone looking to make the most of their time on Isla Mujeres. So pack your bags, grab your sunscreen, and get ready for an unforgettable experience at Parque Garrafon!