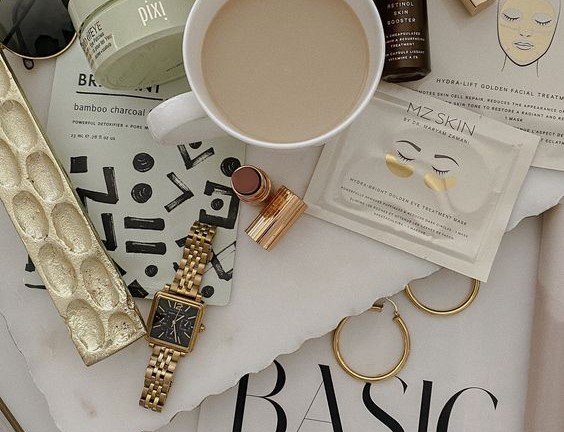 Today we are going to talk about Fashion blogging, And why it is getting so trending nowadays. Let's find out. Fashion blogging has become a significant and influential phenomenon in the digital world, with an increase in digital devices, platforms, and audience reach. It's impacting both the fashion industry and the way people consume and engage with fashion.
Why is Fashion blogging Trending?
The reason Fashion blogging is trending is because it gives a chance to every individual to show their own style and perspectives about fashion.
Is Fashion Blogging a Good Career Option?
These Fashion Bloggers eventually become an influencer with large followers, And they also get a chance to collaborate with small and even big brands.
I'll Tell You How You Can Start Your Journey By Creating A Fashion Blog.
Stylevore
Pinterest
Wix
Reddit
Stylevore
Stylevore is like a fun place on the internet for fashion lovers. You can join, make your own profile, and share your fashion stuff with others. It's all about fashion, and you can even like and follow what other people are posting. It's a cool way to show your style and see what's trendy in fashion.
Visit- https://www.stylevore.com/
How to Create a Fashion Blog on Stylevore
Step 1- Sign Up:
Visit www.stylevore.com.
Click "Sign Up" or "Register."
Fill in your email, password, username, and display name.
Step 2- Create Your Profile:

Add a short bio, profile picture, location, and an optional blog link.

Step 3- Start Posting:

Share fashion-related images and content on your profile.

Step 4- Engage:

Participate in the community by posting, liking images, following users, and adding tags.
Publish Blog at Stylevore
Want to share your fashion ideas with a million monthly visitors? publish your blog at Stylevore, the leading fashion social media platform! Join the fashion revolution, showcase your style, and reach millions of eager readers.
Customization Options
Stylevore provides limited customization options.
You can personalize your profile, but the overall look depends on the platform's design.
Integration with Social Media
Stylevore allows you to share your fashion blog posts on social media by copying the post link.
There's no direct integration with social media within Stylevore, so you'll manage your social media presence separately.
SEO Capabilities
Stylevore has some SEO capabilities.
Posts can appear in search engine results, and using relevant keywords in your content can improve visibility.
Cost
Creating and maintaining a fashion blog on Stylevore is generally free.
You can promote your content organically by engaging with the community.
Optional costs may apply if you choose to use Stylevore Ads for promotion.
Pinterest
Pinterest is a visual discovery and bookmarking platform that allows users to find, save, and share ideas for various interests and projects. Users can create boards to organize and curate content, discover inspiration through images, and connect with a global community of like-minded individuals. With its focus on visual content, Pinterest serves as a creative hub for discovering and collecting ideas on topics ranging from fashion and home decor to recipes and DIY projects.
Visit- https://pinterest.com/
Creating a Fashion Blog on Pinterest
Step 1- Set up a Pinterest business account.
Step 2- Create boards related to fashion topics you want to cover.
Step 3- Step 1- Curate fashion-related content by pinning images, articles, and fashion inspiration.
Step 4- Create original fashion-related pins that link to your blog posts or website.
Step 5- Use relevant keywords in pin descriptions and board titles to improve discoverability.
Customization Options
Pinterest allows users to customize their boards with cover images, board descriptions, and pin descriptions.
Users can customize their profile and pin designs.
Integration with Social Media
Pinterest allows users to connect their Pinterest account to other social media profiles, facilitating easy sharing of pins on platforms like Facebook and Twitter.
SEO Capabilities
Pinterest's SEO capabilities are important for visibility.
You can add keyword-rich descriptions to pins and profiles to increase your visibility and website traffic.
Cost
You can create a fashion blog on Pinterest absolutely free of cost.
Wix
Wix is your gateway to effortless web design. With professionally designed templates, customization options, and powerful features, Wix empowers you to create visually stunning websites tailored to your unique style and needs. Join the millions who have chosen Wix to bring their online dreams to life.
Visit- https://www.wix.com/
How to start a fashion blog on WIX
Step 1- Create your blog
Step 2- Get a hosting plan and domain name
Step 3- Select a niche
Step 4- Publish high-quality content
Step 5 -Grow your traffic
Step 6 -Promote and expand your reach
Step 7 -Monetize your fashion blog
Customization Options
Edit professionally designed blog templates to match your style.
Choose a color scheme that aligns with your theme.
Craft a unique blog logo that suits your concept.
Integration with Social Media
Leverage social media for blog promotion.
Engage with your audience on platforms like Instagram and Twitter.
SEO Capabilities
Optimize content for search engines with keyword research.
Use targeted keywords in your blog content.
Refer to a comprehensive guide on SEO for bloggers.
Cost
Wix offers free web hosting for secure and reliable hosting.
Select a professional and memorable domain name.
Check domain name availability and maintain consistency on social media.
Reddit
Reddit is a social media and content-sharing platform known for its diverse and passionate communities. Users can post, discuss, and upvote/downvote content in various subreddits, which cover a wide range of topics and interests. Reddit offers a unique blend of user-generated content, discussions, and voting mechanisms, making it a hub for information, entertainment, and community engagement on the internet.
Visit- https://www.reddit.com/
Steps to Create a Fashion Blog on Reddit
Step 1- Sign Up for a Reddit Account, If you don't already have one, sign up for a Reddit account. Choose a username that reflects your fashion blog's identity.
Step 2- Determine the specific fashion niche you want to focus on, such as streetwear, sustainable fashion, or luxury brands.
Step 3- Find fashion-related subreddits that align with your niche. Join these communities, read their rules, and engage by commenting on posts and upvoting content.
Step 4- (Optional) If you can't find a suitable subreddit for your niche, consider creating your own subreddit dedicated to fashion. Keep in mind that this requires active moderation.
Step 5- Begin by sharing valuable and well-written content related to your fashion niche. You can post text, links to your blog articles, or images. Focus on providing value to the subreddit's members.
Step 6- Most subreddits have rules about self-promotion. Typically, follow the 9:1 rule, where you contribute nine non-promotional posts or comments for every self-promotional post.
Step 7-Respond to comments on your posts, engage in discussions, and build relationships with fellow Redditors. Authentic engagement is key.
Step 8- Once you've established credibility within the subreddit, start sharing your blog posts. Ensure your content is relevant to the subreddit's interests and craft enticing titles.
Customization Options
Reddit offers limited customization options compared to traditional blogging platforms.
You can personalize your profile, add a profile picture, and create or moderate subreddits.
The overall look and feel of your fashion blog depends on the subreddit's design.
Integration with Social Media
Reddit allows you to share your fashion blog posts on social media platforms by copying the post link.
There's no direct integration with social media within Reddit, so you'll manage your social media presence separately.
SEO Capabilities
Reddit has SEO capabilities to some extent.
Posts can appear in search engine results.
Using relevant keywords in post titles and content can improve visibility, but Reddit's primary purpose is not SEO.
Cost
Creating and maintaining a fashion blog on Reddit is generally free.
You can promote your content organically through community engagement.
Optional: If you use Reddit Ads for promotion, there will be a cost associated with advertising campaigns.
Enhanced Comparison Table for Fashion Blogging Platforms
| | | | | |
| --- | --- | --- | --- | --- |
| Feature/Platform | Stylevore | Pinterest | Wix | Reddit |
| User Interface | User-friendly, intuitive for fashion-focused activities | Visually rich, easy navigation for image-centric browsing | Highly intuitive, drag-and-drop editor for easy customization | Text-heavy, community-driven with a learning curve |
| Target Audience | Fashion enthusiasts and trendsetters | Broad, including DIYers, home decorators, fashion followers | Individuals and businesses seeking a professional online presence | Diverse, from casual browsers to niche community members |
| Content-Type | Primarily fashion images and personal style shares | Images, infographics, and visual inspirations across various categories | Text, images, and video content for comprehensive blog posts | Text posts, links, and images, catering to a wide range of topics |
| Community Features | Limited to platform-specific opportunities | Pinning, following, and board collaborations | Comment sections, contact forms, and community forums (with Wix Blog) | Subreddits, comments, upvotes/downvotes for community-driven content |
Recommendations
For Visual Impact: Pinterest, with its visual appeal and vast inspiration resources, is ideal for those focusing on visual storytelling in fashion.
For Professional Blogging: Wix is the top choice for a full-fledged, customizable fashion blog with a professional look.
For Community Engagement: Reddit and Stylevore offer unique community experiences; Reddit for broader discussions and Stylevore for focused fashion content.